The smart eco-platform implements its portfolio of activities and services to embrace responsible fashion to support designers, brands, students and innovators advocating for a more sustainable and virtuous business.
"In the past months, the pandemic has drastically changed lives and business, accelerating ongoing processes and innovations. From e-learning to virtual communication, what it might have taken years to become a daily routine is already part of a new normality", explains Giusy Bettoni, founder and CEO of C.L.A.S.S. ecohub.
"In the past semester, at C.L.A.S.S. we have been working on new paths for sustainable and virtuous business. As the pandemic unfolded upon us, we decided to make use of such of an exceptional pause from the ordinary hustle and bustle to re-structure all our offer and to integrate our new services we have been working on even before the emergency that will serve as precious tools for the upcoming challenges and opportunities".
Since 2007 C.L.A.S.S. mission is to empower professionals to trigger change by promoting the new generation of responsible values. The new 'architecture' reflects the multiple dimensions of sustainability. It goes beyond the strong expertise in materials C.L.A.S.S. is renown for and spans across the whole production process including alternative sourcing, machine technology and textile applications but also education and digital communication. "Fashion is a very complex system with multiple actors striving to make a difference at each stage of the process. The new 'architecture' reflects our holistic approach."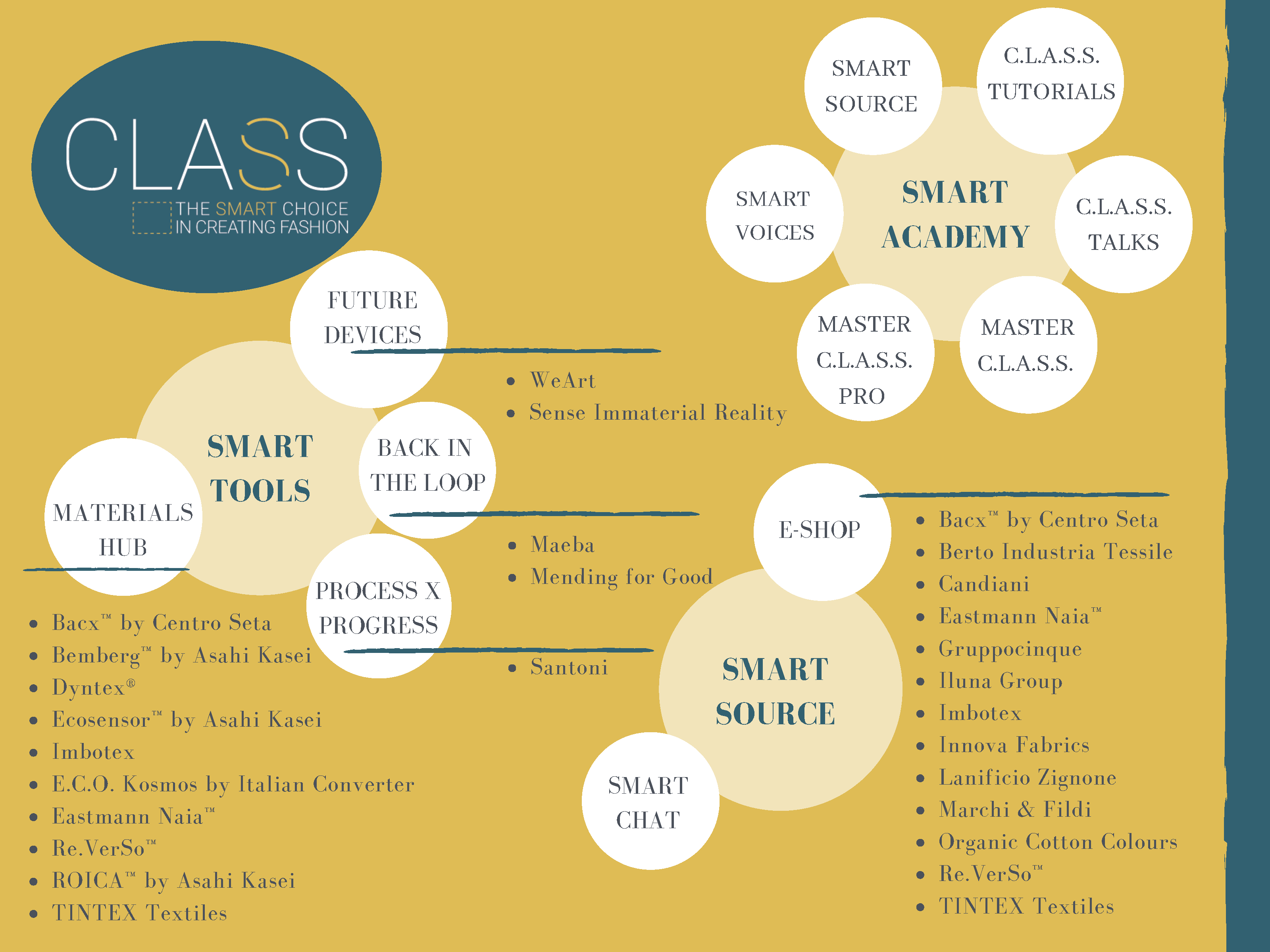 The new C.L.A.S.S. is structured around three main areas: the SMART TOOLS, the SMART ACADEMY and the SMART SOURCE. In the next weeks on social media, via press releases, newsletters and on the website, C.L.A.S.S. has set out a road map focusing in detail on all the new services and projects.
The SMART TOOLS is the platform of responsible and traceable materials, innovations, tools and technologies to inject sustainability into textiles, fashion collections and companies' performance.
The SMART ACADEMY is the rich programme of events, talks, classes and services to educate, raise awareness and inspire professionals, manufacturers, students and all those who strongly believe in sustainable values. Because there is no sustainability without knowledge.
At the cross between the two menus is the SMART SOURCE – the formative and inspirational materials' bank and samples e-shop for students, designers and brands willing to discover, learn more and test some of the smartest and most sustainable fabrics of the Material Hub. The Smart Source is both physical – with samples hotspots in Milan, London and New York – and phygital, thanks to the CLASS iCatalog app developed by innovative global company Sense-Immaterial Reality that allows professionals to discover new smart fabrics with the cutting-edge immaterial reality. Hyper-detailed features of the textiles are digitally reproduced with a responsive design.
C.L.A.S.S. is the first to invest in such pioneering technology. "A smart tool able to provide solutions to new necessities but also to reach a wider audience that cannot travel both now and in the future."
"Alternative communication tools have settled in our personal and professional routines. In the past months we have been honing our digital skills and have implemented our presence in the virtual world. CLASS iCatalog is just an example, likewise we have launched new virtual formats to communicate and mingle via social media and video platforms. Our first series of Smart Voices, a virtual programme of talks with responsible innovators sharing their experiences and visions for a virtuous fashion and textile business, has been a success."
The global effort to achieve a fairer, smarter and more responsible fashion is huge. Sometimes it's just not that easy to discover it. "At C.L.A.S.S. we want to bring it to you. Because there is no sustainability without knowledge". Stay tuned!