Two days full speed in Milan to share and showcase new smart values and evolved circular economy supply chains dedicated to the denim community @ Denim Première Vision global event.
C.L.A.S.S. will be at Denim Première Vision representing the following areas:

C.L.A.S.S. Denim Smart Solutions
C.L.A.S.S. Education
C.L.A.S.S. Material Hub
C.L.A.S.S. will showcase a selection of Denim Smart solutions belonging to its premium partners to highlight different and interesting new generation of values where aesthetic, performance and sustainability are completely aligned and defining new standards. Major stories to highlight:
ROICA™ & Candiani partnership: shared vision, aligned mindset and DNA that reveal a common deep commitment to reach a new level of innovation that embodies responsibility with amazing look and touch! These were the premises that lead to the partnership between ROICA™ and Candiani which generated a very special ROICA™ yarn realized only for Candiani. A premium stretch yarn that is boasting a GRS (Global Recycled Standard) version 4 certification, thanks to its high percentage of recycled content and appropriated process of transformation.  This ad hoc ROICA™ sustainable stretch solution perfectly fit the new amazing Candiani ReLast line, the range of market fresh responsible denim products whose objective is to introduce a 100% transformed innovative solution.  No compromises just pure beauty, smart performing added values.
C&A launches Cradle to Cradle Certified™ Gold jeans In August 2018, C&A launched a true technological innovation, the world's first stretch denim Cradle to Cradle (C2C) Certified™ at Gold level. The denim is equipped with another unique ROICA™ premium sustainable stretch solution, the ROICA™ V550 which boasts the Cradle to Cradle Certified™ Gold Level for Material Health product and ingredients certification. The ROICA™ V550 yarn has been evaluated throughout the supply chain for lower impacts on human and environmental health, striving toward eliminating all toxic and unidentified chemicals for a safe continuous cycle. On top of the first certification ROICA™ V550 has also received the Hohenstein Environment Compatibility Certificate as it proudly breaks down without releasing harmful substances.
PIANETA, the Berto range representing its commitment to circularity and sustainability, created thanks to ECOTEC® by Marchi&Fildi system.  In fact, the cotton yarn used to make these fabrics, is born from the Berto's production waste, then transformed through a high-quality 100% traceable and certified ECOTEC® manufacturing process. This process allows Berto to save 65% of the standard use of water. Adding value on values, the indigo dyeing process uses a natural and totally biodegradable sizing and also a new finishing process that allows a saving of -85% lt of water and -32% gr of CO2 emissions per mt of fabric, compared to a standard finishing. A 360-degrees smart production.
Eileen Fisher, renowned for her timeless ethical and responsible fashion collections showcased RENEW, a new concept in being circular by design. The brand takes old Eileen Fisher garments and upcycles or re-engineers them into bespoke designs. On display examples of their 'RESEWN' project which showed how to best use existing inventory stock to create one-of-a-kind designs by re-engineering new seam and construction methods and using existing patterns.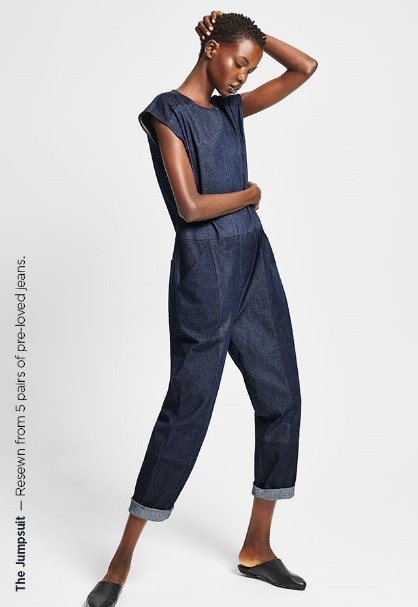 C.L.A.S.S. Education: education is right at the heart of C.L.A.S.S., and staying true to its commitment launched last march 2018 in NYC in occasion of C.L.A.S.S. 10 years birthday, C.L.A.S.S. is confirming today in Milan the full plan dedicated to newcomers, starts up and student, made of:
C.L.A.S.S. Action Sessions: A key moment of sharing a decade expertise in the integration of responsibility into fashion collections. An introduction to circular economy approach to activate the new generation of fashion designers. The C.L.A.S.S EDUCATION PROGRAMME got underway earlier this year with a series of special C.L.A.S.S ACTION SESSIONS hosted in Milan, New York at CFDA and Amsterdam at FFG, The Copenhagen Fashion Summit marked the 4th and midway point of these sessions, Madrid at Ecoalf and will be followed with a further two scheduled to take place in Berlin and London.

University Smart kit: supporting tool that introduces smart materials with sustainable credentials. This package includes expert presentation at university and one C.L.A.S.S. Education Smart Kit: a selection of the most interesting fabrics that represent the excellence in "smart innovation".

E-commerce: starting from the belief that information and knowledges are crucial to start a responsible innovation journey, it is also fundamental to have the possibility to get and experience first-hand top smart materials. This is concrete education. That's the objective of the C.L.A.S.S. E-commerce platform, a real solution to foster emerging businesses offering the chance to develop a scalable responsible business and to buy selected partner materials with no minimums www.classecohub.org/shop. Aiming to concretely empower future key actors of the industry, allowing them to develop a new design thinking, in occasion of Denim Première Vision, C.L.A.S.S. will offer visitors a promotional 10% discount valid until June 5th.
And last but not least, Première Vision Smart Talks on May 29th, www.denimpremierevision.com/visit/agenda/ moderated by C.L.A.S.S. CEO Giusy Bettoni,  that engaged with amazing and contemporary subjects, where denim becomes smarter with many different expressions, interactions and brand new solutions dedicated to contemporary consumers.  Starting from new machinery solutions, going through contemporary fabric producers, new generation of fibres and dyeing and finishing unexpected management. And even more about brands looking for innovative design strategies based on circular economy for new level of aesthetics, performances and unexpected multiple lifecycles.