15th – 16th May – Copenhagen Concert Hall
C.L.A.S.S 'takes action' and shares the very smartest textile and material innovations available globally today as part of a carefully curated space to be unveiled at the 10th anniversary of the Copenhagen Fashion Summit. This two-day event will take place from the 15th – 16th May at The Copenhagen Concert Hall.
With education right at the heart of this unique presentation, C.L.A.S.S will share valuable insights and physical examples of some of the most sustainably responsible innovations available on the market today, empowering the next generation of designers as well as those from leading design houses, with the chance to experience first-hand how they might work towards a circular design economy.
Located within the Design Studio area, key members of the C.L.A.S.S ACTIVATE team will be on hand to share valuable insights gleaned from over 12 years of research and development within this area helping to provide visitors including new designers, start-up's, and established designers with everything needed to make 'smart' choices that work vertically through the supply chain from merchandising right through to consumer facing communication campaigns. From trends, new R&D concepts, and the latest buzzwords, C.L.A.S.S has it covered.
The C.L.A.S.S EDUCATION PROGRAMME got underway earlier this year with a series of special C.L.A.S.S ACTION SESSIONS hosted in Milan, New York at CFDA and Amsterdam at FFG ,The Copenhagen Fashion Summit marks the 4th and midway point of these sessions, and will be followed with a further three scheduled to take place in Madrid, Berlin and London*.
The action sessions fall under the umbrella of the overall C.L.A.S.S EDUCATION PROGRAMME targeted particularly at new designers, start-up brands, and those working across fashion supply chains and looks at how to actively foster responsible innovation, how to devise appropriate strategies to implement them, and most importantly how to communicate them in a way that makes sense and appeals to the modern consumer.
Visitors to the Copenhagen event will also be able to access the C.L.A.S.S E-COMMERCE textile collection, where new designers and start-up's can purchase sustainably responsible fabric options in anything from 1m up to 50m; a vital resource for those planning sustainably friendly future collections.
As part of this dedicated space, C.L.A.S.Swill present the 'MATERIALS HUB' showing swatches of the latest smart innovation materials, an initiative developed for this global fashion summit with the special support of its partners Bemberg™ and ROICA™ by Asahi Kasei, and TINTEX Textiles. These special supporters are leaders in their fields and leading the way in terms of manufacturing and processes for a circular economy. From the unique ROICA Eco-Smart™ family of sustainable stretch fibres, and Naturally Advanced fabrics from TINTEX Textiles to Bemberg™, a new generational fiber made from bio-utility material demonstrating new traceable and closed loop processes now possible; this materials hub is one not to miss.
Four international industry names; Eileen Fisher, Wolford, Napapjri and Timberland joined the C.L.A.S.S space with selected garment pieces representative of four different ways to be 'smart'.
Eileen Fisher, renowned for her timeless ethical and responsible fashion collections showcased RENEW, a new concept in being circular by design. The PROGRAM takes old Eileen Fisher garments and RESELLS, REUSES or re-engineers them into NEW designs.
On display examples of their 'RESEWN' project which showed how to best use existing inventory stock to create one-of-a-kind designs by re-engineering new seam and construction methods and using existing patterns.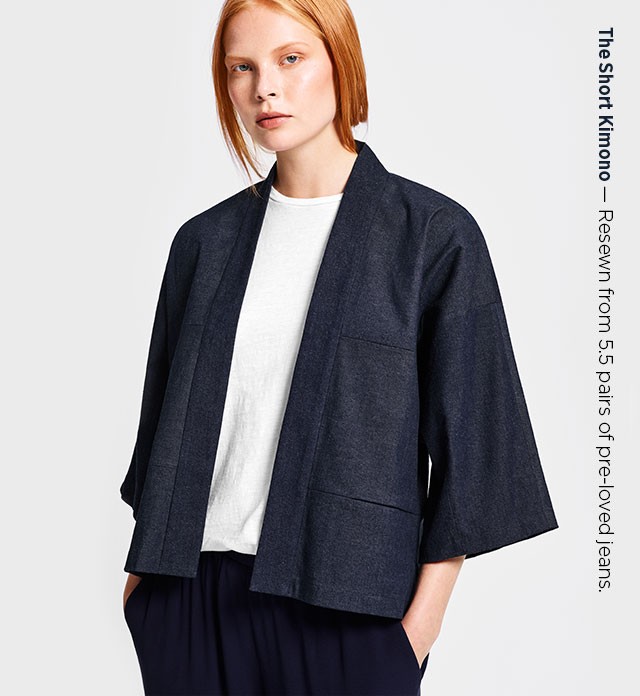 Wolford, renowned for its exceptional European Skinwear including legwear, lingerie and bodywear, is the world's first and only company in apparel and textiles to hold two certificates stating that they are Cradle to Cradle Certified™ at GOLD Level. They have reached an ambitious corporate goal to be certified for both biological and the technical cycles.
In September 2018 Wolford launched the very first products created for the biological cycle; the Aurora Leggings and Pullover that were followed by a Top and a Shirt in February 2019. Their unique power is that by harnessing the properties of Lenzing Modal®, infinito® by Lauffenmühle together with the special ROICA™ premium stretch by Asahi Kasei and adapting their production processes accordingly, garments can be fully biodegraded at the end of the clothing life cycle. Wolford is able to close the the loop by composting these pieces into biogas which is used at their production facility. It creates organic soil matter that goes back into the Earth, adding vital nutrients and improving soil health.
Aurora line by Wolford with ROICA™ V550
Wolford's second Cradle to Cradle Certified™ at GOLD Level certificate for the technical cycle also paves the way for future design options thanks to the use of a special polyamide. The Econyl® yarn made by Aquafil, which is regenerated from oceanic fishing nets and other nylon waste, is mixed with the ROICA™ by Asahi Kasei premium stretch fibre which allows development of a huge variety of styles. Wolford will keep the cycle running and have zero waste. 2020 is set to be a special year for Wolford as it will launch its very first legwear designs using this specially created technical cycle.
Napapijri asserts its commitment to nature and animal welfare by presenting a selection from its digitally knitted 'Ze-Knit Collection, which is created using a single, dope-dyed thread. By adopting this type of manufacturing, the brand shows how it is possible to reduce the amount of raw materials, water, and chemical dyes employed in the production process.
The brand will also showcase its down- and fur- free Superlight Skidoo Parka, whose technical features include Napapijri's own Thermo-Fibre™ padding, ultrasonically sewn seams and four-way stretch fabric.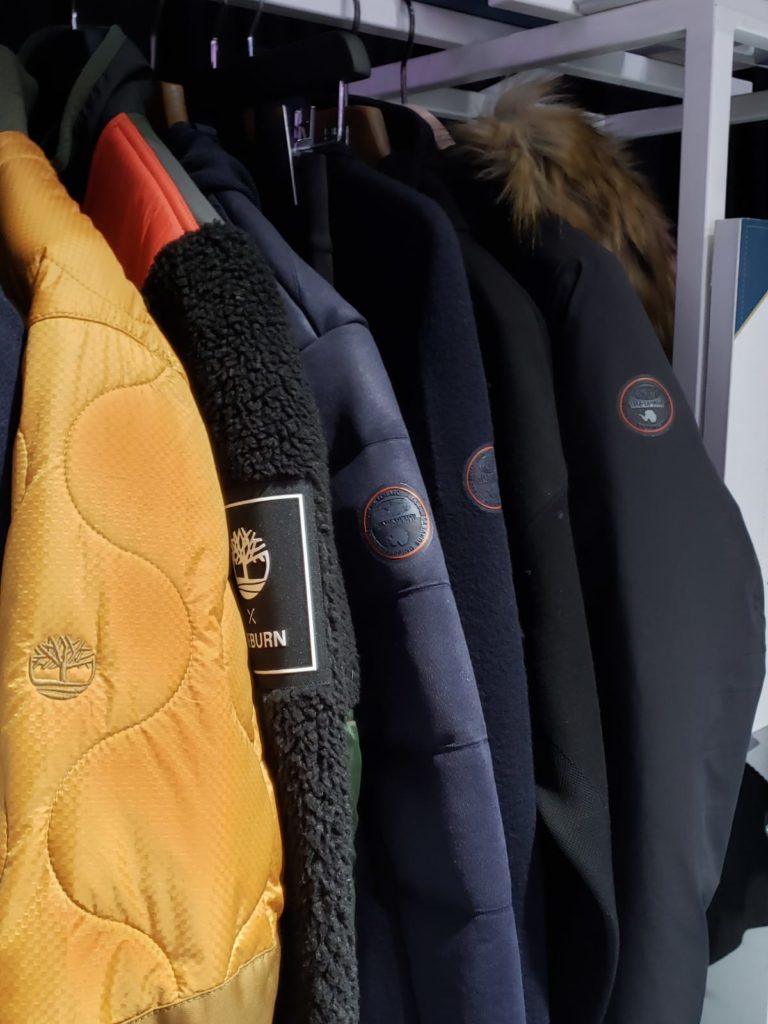 C.L.A.S.S. Booth displaying Timberland and Napapijri selection
Timberland showcases its commitment at the global fashion summit by bringing a selection of two innovative products:
For Fall 2019 the ECORIGINAL BOMBER from Timberland, an open hem bomber jacket with onion quilt made out of transformed polyester from post consumer plastic bottles, the perfect match between style and functionality, a unique piece.
The panelled jacket, based on iconic archive style, born from the Timberland collaboration with designer Christopher Raeburn. The responsibly made jacket is the result of an innovative interpretation of a style that today features 100% recycled nylon for the ripstop shell and 100% recycled polyester for the Sherpa Fleece. Men's outwear is brought to the smartest level thanks to the use of the innovative fabric technology for the development of stylish lifestyles.