ROICA™ latest innovations @ INTERFILIERE Paris
INTERFILIERE Paris: Spearheading the stretch market, ROICA™ elevates new standards for intelligent contemporary consumers.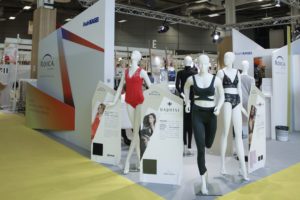 ROICA™ expert representatives will excite you as they demonstrate functionality, their advanced color technology system, and show you a fantastic range of stretch innovations from shapewear to soft compression that can enhance designs. Recognizing ROICA™ as a leader with a rich history in sustainable solutions, the INTERFILIERE Paris ROICA™ booth will provide unparalleled insight into conscientious advancements and creativity. As you enter, you are immersed into 3 Modern Wardrobe concept zones to witness advanced innovation related to ROICA™ prestigious partners' successes:
ROICA™ Lab Zone
ROICA™ Innovation Gallery Zone
ROICA™ Lifestyle Zone
ROICA™ Lab Zone – a fantastic zone that will amaze and navigate you toward the latest hi-tech Modern Wardrobe solutions. Unmatched premium stretch performance belonging to ROICA™ Eco-Smart family and ROICA™ Feel Good family designed to exceed contemporary business and consumer desires. This zone will inspire you as you encounter the next level of innovation achieved by Tessitura Colombo.
Distinguishing ROICA™ as a trailblazer, Tessitura Colombo uses award winning ROICA™ Eco Smart family and reaches a new level of advancement ahead of all others. Tessitura Colombo's "Natural Dye Collection", entirely made of Eco-Lace, offers a color palette of sophisticated shades created using amazing natural dyestuff on all eco materials used for this line!
ROICA™ Innovation Gallery Zone – an exciting area that shares ROICA ™ textile partners' innovations to inspire endless possibilities. This area will showcase lingerie concept garments produced in Japan that will spark ideas for AW 19/20 and a fantastic selection of materials produced by ROICA™ partners. ROICA™ valued partners include: Giemme (IT) booth D10, Iluna Group S.p.A (IT) booth D57-D58, Indesmalla (ES) booth C50, Inplet Pletiva (SLO) booth C31, Lauma Fabrics/LE Textile GmbH (DE) booth D22, Maglificio Ripa S.p.A. (IT) booth C14, MG2 (FR) booth b27, Penn Textile Solutions GmbH (DE) booth B18, Piave Maitex (IT) booth C19, Sofileta (FR) booth E16, Sportswear Argentona (ES) booth C13, Taubert Textil GmbH (D) booth B20, Tessitura Colombo Antonio srl (IT) booth C54, TVB (DE) booth B20
ROICA™ Lifestyle Zone – in this concept zone, highly regarded international brands including, Wolford, Hanro, Cosabella, Simone
Perele, and Daquini have all included ROICA™ responsible innovations into their collection. Here, you will find a beautiful selection of commercial lingerie, swimwear and nightwear items from leading brands that use ROICA™, including:
DAQUÏNI enriches their collection by selecting Sofileta fabrics with ROICA™ Eco-Smart family. The breathable, moisturewicking, silky soft, high-tech characteristics of the fabric enhance the activewear designs.
Cosabella selects two of Penn's fantastic materials with ROICA™ to design a unique lingerie set: light camouflage lace effect fabric
with ROICA™ Colour Perfect family and Flounce of Tulle with ROICA™ Eco-Smart family with reinforced sides. Less stitches to enhance comfort, light but structured.
HANRO selects Iluna Group lace with ROICA™ Eco-Smart family for "Ava", a seductive nightwear. Velvet – as the fashionable musthave
of the season – is combined with a softly flowing micro-modal and silk blend with a noble sheen, and a tender eyelash lace. A refined material mix featuring velvet inserts at the sleeves and décolleté, creating a new and exciting look.
Of special interest, gain a sneak peek into the launch at INTERFILIERE Paris of Wolford's " Aurora" line Cradle to Cradle® gold certified leggings and pullover. It is the world's first yarn belonging to the ROICA™ Eco-Smart family with Cradle2Cradle material health certificate and Hohenstein Environment compatibility certification. It can be disposed of without harmful environmental results.
Wolford is dedicated to increasing this collection each season. The designs are developed with the intention to bring the ingredients back to the cycle. Instead of taking new materials, they simply borrow them for the lifetime of the product.