The SMART TOOLS features a Material Hub for smart fabrics, yarns and ingredients circular-powered alternative sources, cutting-edge production machinery and futuristic apps that allow to virtually feel, touch and experience fabrics…
Since 2007, C.L.A.S.S. has always been regarded 'as the place to go to' when in search of new materials and innovations able to trigger change and to 'interweave' a more sustainable and humane future. Now the ecohub now widens its perspective and expands its offer with the SMART TOOLS platform comprising also applications, services and production technologies.
"In fashion, sustainable materials are just the tip of the iceberg. Indeed, as a very complex system, the sector means also production processes, technologies, business models and more", says Giusy Bettoni, CEO and founder of C.L.A.S.S.
The SMART TOOLS platform features 4 main sections: The Material Hub, Back in The Loop, Process x Progress and Future Devices. Together they empower professionals to design with sustainable ingredients, innovate according to circular economy, develop responsible production processes and implement digital sustainability.
The MATERIAL HUB
It features a careful selection smart fabrics, ingredients and yarns by some of the most cutting-edge companies and innovators across the globe. The wide range includes only transparent and traceable products, which can be natural/organic, up or re-cycled/able, or innovative. Our team constantly monitors and explores the epicentres of innovations selecting and collecting the best practices.
"The Material Hub encourages designers and brands to source responsibly to activate change", explains Luca Olivini, C.L.A.S.S. materials and marketing manager.
The Material Hub includes Bacx™ by Centro Seta, Bemberg™ by Asahi Kasei, Dyntex®, Ecosensor™ by Asahi Kasei, Imbotex, E.C.O. Kosmos by Italian Converter, Eastman Naia™, Re.VerSo™, ROICA™ by Asahi Kasei and TINTEX Textiles.
BACK IN THE LOOP
Did you know that there is a huge quantity of materials and textiles produced but not used and discarded by the fashion system? BACK IN THE LOOP is C.L.A.S.S. section dedicated to alternative and sustainable sourcing. Because nothing is created or destroyed – we can't afford for any of it to get wasted. Partners in this section are deeply committed to inject circular economy into fashion. They are:
MAEBA INTERNATIONAL, leader in selecting and repurposing premium Italian fabrics. "We teamed up with MAEBA International for  its exceptional  60 years of expertise in collecting high-quality materials from leading brands, textile manufacturers and knitwear factories with a unique approach." Thanks to its unique and highly efficient business model, MAEBA is the first company of its kind at an international level to be accredited with the UNI EN ISO 14021 assertion which grants the traceability of the collected materials. Their new ReLive Tex brand, comprising the certified premium products, is a key range of BACK IN THE LOOP.
Mending for Good, a consulting agency that offers creative, ethical solutions to luxury brands for the issues of waste and excess stock. The repurposing of dead stock is done specifically through our network of high-quality craft projects linked to social cooperatives. Mending for Good, in addressing issues of fashion waste, through a range of socially valuable craft collaborations, thus also provides brands with story-telling opportunities. The proposals to re-make, re-purpose, re-craft brands' excess raw materials are customised to each brand and serve to communicate the circular philosophy.
PROCESS X PROGRESS
It focuses on the art of producing fashion sustainably and out of the box. The innovations of Process x Progress encompass all the single steps of the supply chain: from smart machines' performances, to dyeing, finishing and all the possible applications and nobilitations, from the fields to distribution logistics.
To inaugurate such division, we also announce the category's first resident and C.L.A.S.S.' brand-new partner: Santoni, Italy's first sock knitting machine manufacturer, renown for its responsible and functional engineering approach. Its ultimate achievement – the X Machine -is the first seamless knitting machine allowing to create almost entirely a shoe guaranteeing at the same time high definition and sharpness of colour without wasting a single yarn of material.
FUTURE DEVICES
They tune with digital sustainability, the ultimate frontier of innovation, and features digital and visionary tools to promote and communicate responsible fashion. "Some of the most ground-breaking innovations are taking shape in digital agencies, after all we live in the 4th industrial Revolution", says Luca Olivini.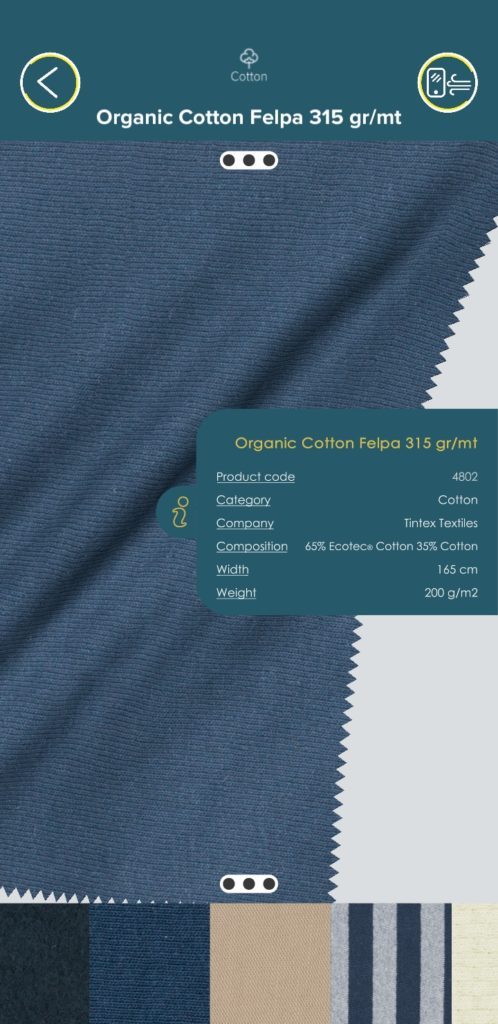 Some example? The Immaterial Reality technology mixes physical and virtual photorealistic reality. Developed by global digital company Sense-immaterial Reality, it allows to visually replicate the textures and details of textiles with a responsive digital design. A very practical solution to communicate with extreme precision the quality of a fabric to someone who cannot be there in person. For the CLASS iCatalog app, Sense-immaterial Reality's team has carefully analysed and recreated the weight and drapery digitally of selected smart fabrics".
WeArt develops and explores the forefront of digital innovation: virtual tactility. When it comes to textiles, touch is a fundamental sense. The company developed a technology that can be integrated in professional training applications and customer experiences that allows to record and reproduce tactile sensations: forces, vibrations and temperature changes.
"Thanks to our partners and smart companies we collaborate with, we offer to professionals some of the smartest tools on the market. In the next days we'll set up a programme of talks and virtual events to find out more about our expanded platform. Stay tuned!"