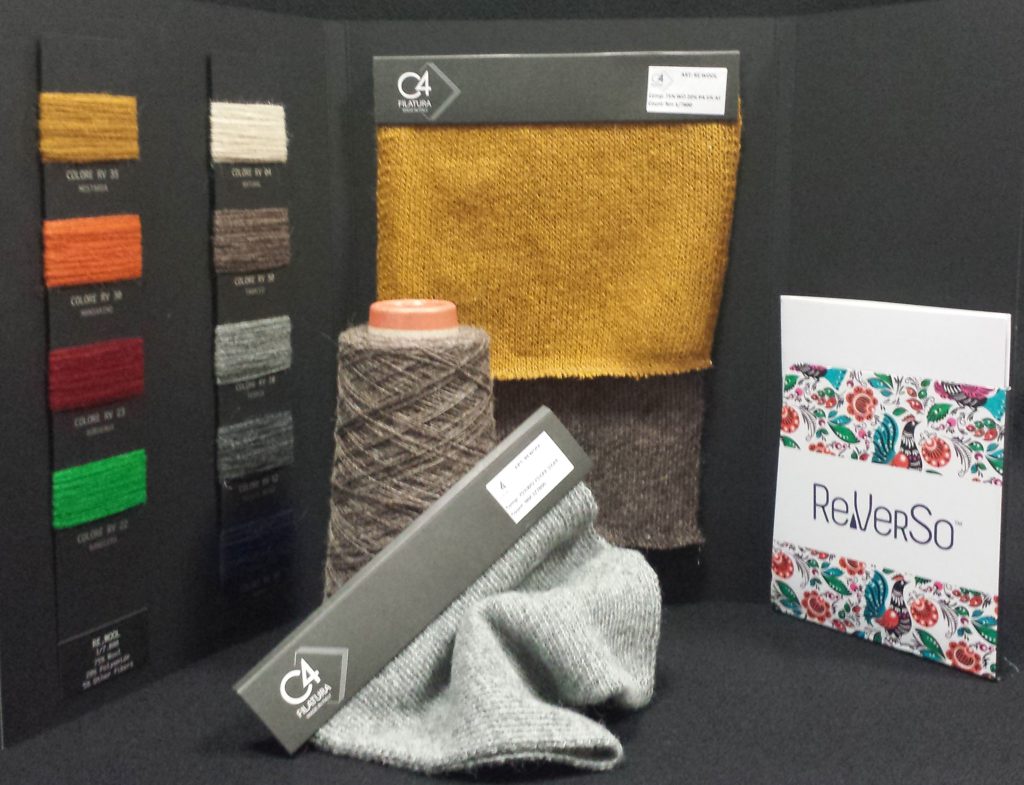 Filatura C4 was born 1962 in the heart of Tuscany, Pistoia. Since three generations, it produces Made in Italy carded yarns combining tradition and experience with the innovation of the young and dynamic Management. The mission of the company is creating high quality products and performances through Research & Development of materials with low environmental impact as well as the use of sustainable and recycled raw materials.
Since 1962, Filatura C4 is known for smart innovation in the contract and furnishing and is achieving specialization in the recuperation of technical and natural fibers.
Filatura C4 is a Re.Verso™ partner of excellence for smart wool yarns for woven fabrics for furnishing contract and fashion.
Re.Verso™ is the identifying trademark of a new Italian textile system, a fully integrated chain that allows the creation of unique and highly valuable materials. The supply chain is based on pre consumer clippings, never used, given by the best Italian and international brands/producers of the fashion industry. This system allows great savings in terms of energy & water consumption and CO2 emissions as certified by the LCA (Life Cycle Assessment) done by PRIMA Q. These are the savings in comparison to normal wool:
? -76% of Energy
? -89% of Water
? -96% of CO2
Re.Verso™ is a system certified Global Recycling Standard (GRS), ISO 9001 and SA8000.
A favorite partner for each field: A. Stelloni Collection by Mapel for the fashion textile, Filpucci for hi-end knitwear yarns and Filatura C4 for the contract design textile and generally for woven textiles.
The yarns in this Re.Verso™ collection are manufactured from a combination of natural fibers, mainly re-engineered wool, coming from pre-consumer textile materials, with artificial, traditional synthetic and technical fibers. Re.Verso™collection is mostly used for contract and domestic furnishing. The product is available in a wide range of counts that may vary from Nm 5.000 to Nm 9.500 and can be offered in single end or twisted.