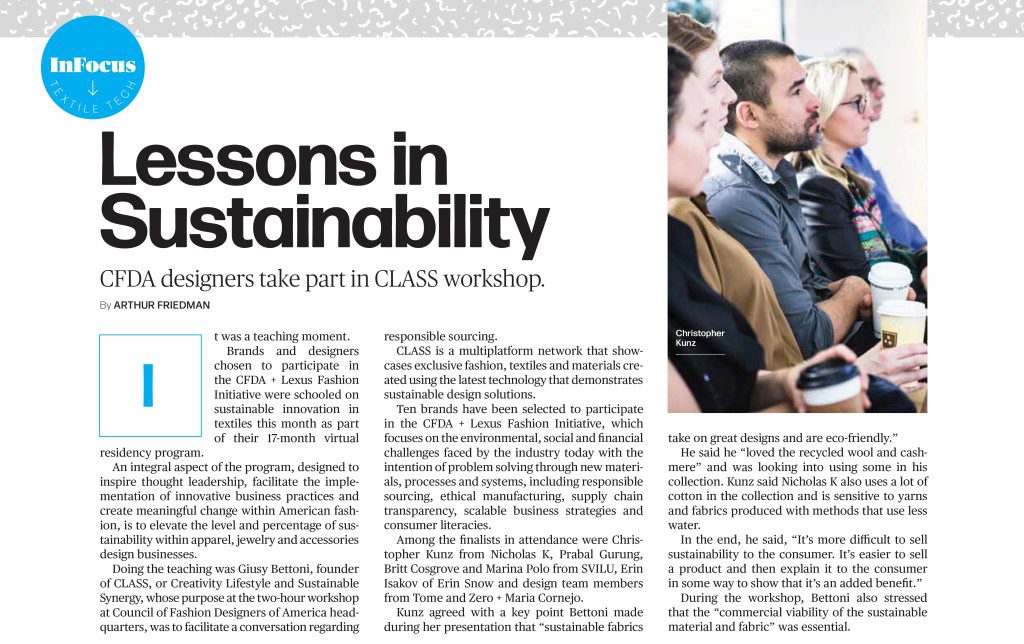 "As buzzy as sustainability may seem today, the term still conjures up (for the most part) images of grass-fed beef, off-the-grid yurts, and thick-buckled Birkenstocks. Small wonder, then, that fashion brands—those peddlers of dreams and artificers of cool—might be loathe to embrace something that might make them appear gauche by association. "Sustainability is a lot of things but it's not seen as very stylish, especially with fashion," Giusy Bettoni, CEO of C.L.A.S.S. (Creativity Lifestyle and Sustainable Synergy), an eco-textile consultancy based in Milan, told a rapt assembly at Council of Fashion Designers of America in New York City last week. "When I talk about sustainability, the value decreases by 50 percent." We can blame the messaging for this—no self-respecting maison wants to come out smelling like patchouli, after all. "Communication hasn't succeeded in delivering a clear message around sustainability and responsible innovation," she added."
This is just the beginning of the great article "7 Eco-Friendly Fabrics That Will Disrupt the Luxury Fashion Industry" writtten by Jasmin Malik Chua for Ecouterre and published on the 22 March 2016. Read more just clicking on the title above and discover all the Smart innovations of our partners Bacx™ by Centro Seta, Cupro by Asahi Kasei, Ecotec™ by Marchi & Fildi, Re.Verso™, Roica™ by Asahi Kasei, Smart Materials for Okinawa as well as the project New Life™.
Re.Verso™ is pleased to announce its latest innovation: Re.Verso™ cashmere knitwear yarn by Filpucci, the new exclusive Re.Verso™ partner of excellence for knityarns.
A different sustainability value is introduced in Filpucci to integrate the Woollen Selection's Ninetyfive collection with a product of equal ethical value. In addition to the low-impact, CO2-free regenerated (post-consumer) cashmere yarn widely appreciated as a vehicle of high qualities, there is now an exclusive re-engineered (pre-consumer) cashmere yarn originating from sophisticated pure textile material selectively and transparently screened by the Re.Verso™ supply chain.